It's essential to have an optimized website (correct site structure, proper meta tags, good internal linking structure) for a link building program to be the most effective. While it's apparent that only 10 or 20% of search engine optimization has to do with on-page optimization and the other 80-90% having to do with linking, we still make sure everything in your site is optimized. Here is a checklist we go through with every.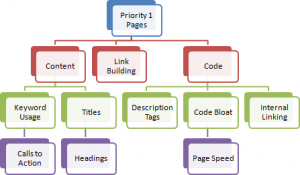 Index Page Optimization :
We make sure your title tags, description, and keyword tags are properly optimized for your targeted keywords.
Index Page Content :
We make sure you have at least a paragraph of content containing your keywords in the text.
Inner Page Linking :
We make sure your internal linking structure is properly optimized increasing your link popularity within the site.
Meta Tag Optimization :
We properly optimize all your major interior page (such as category pages for e-commerce sites) meta-tags